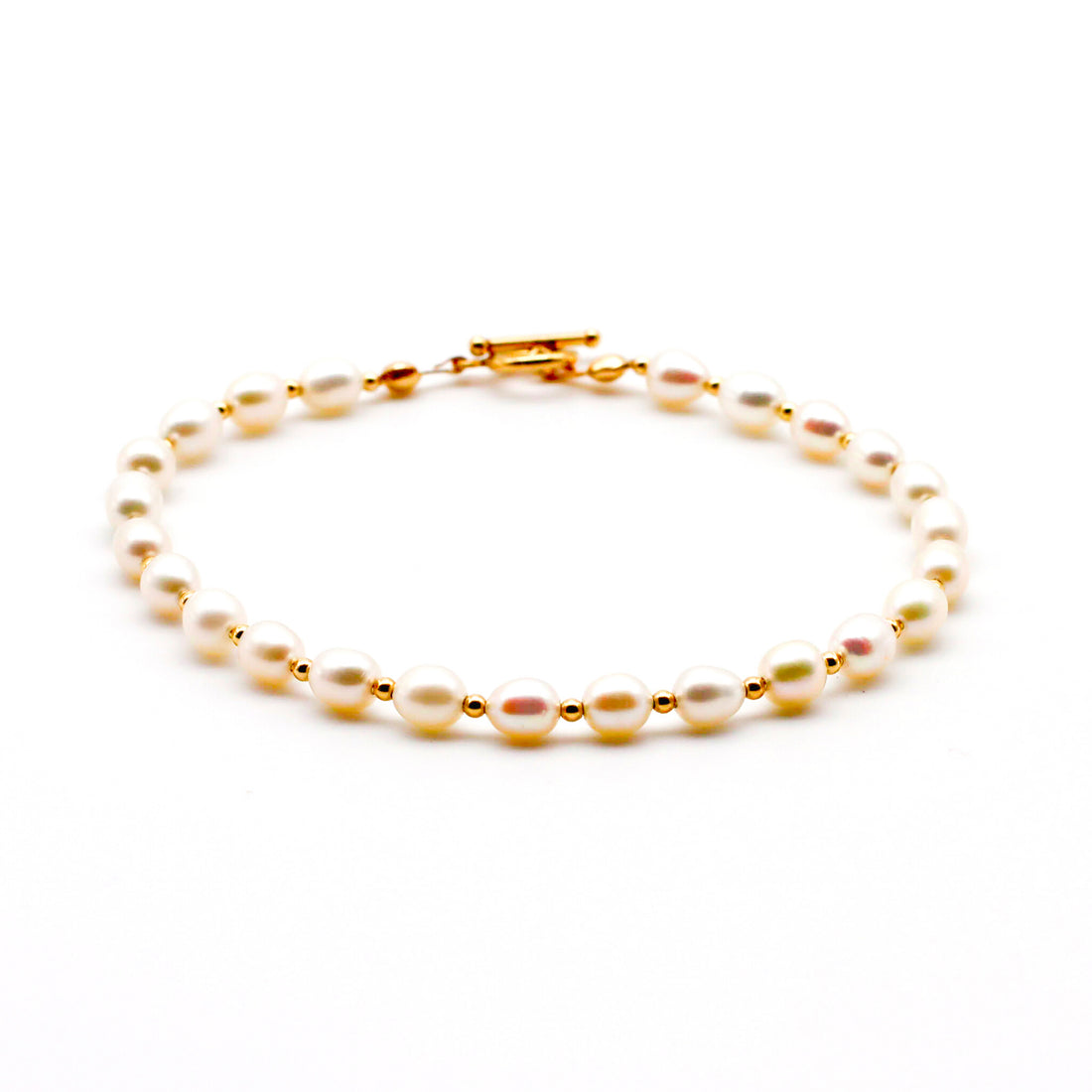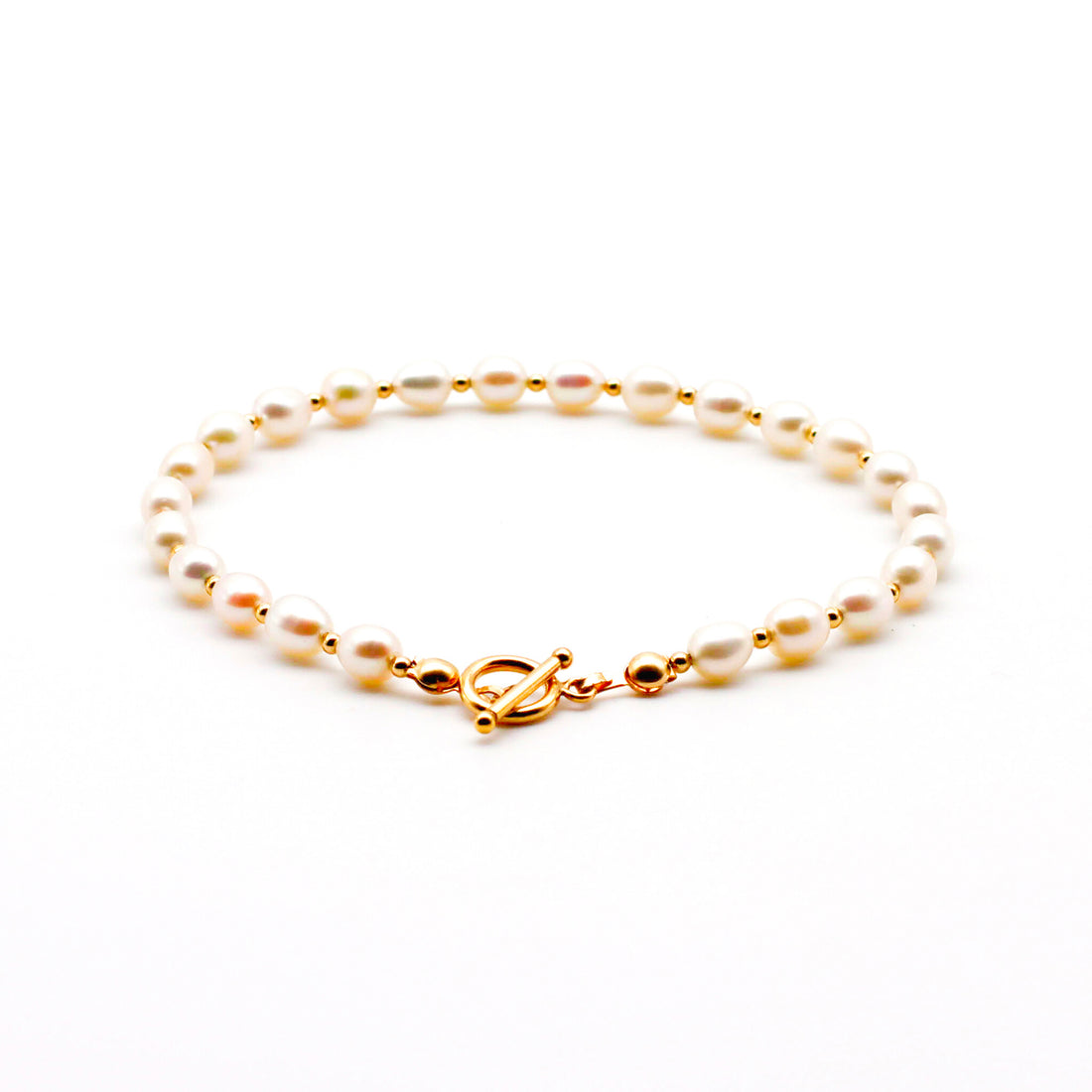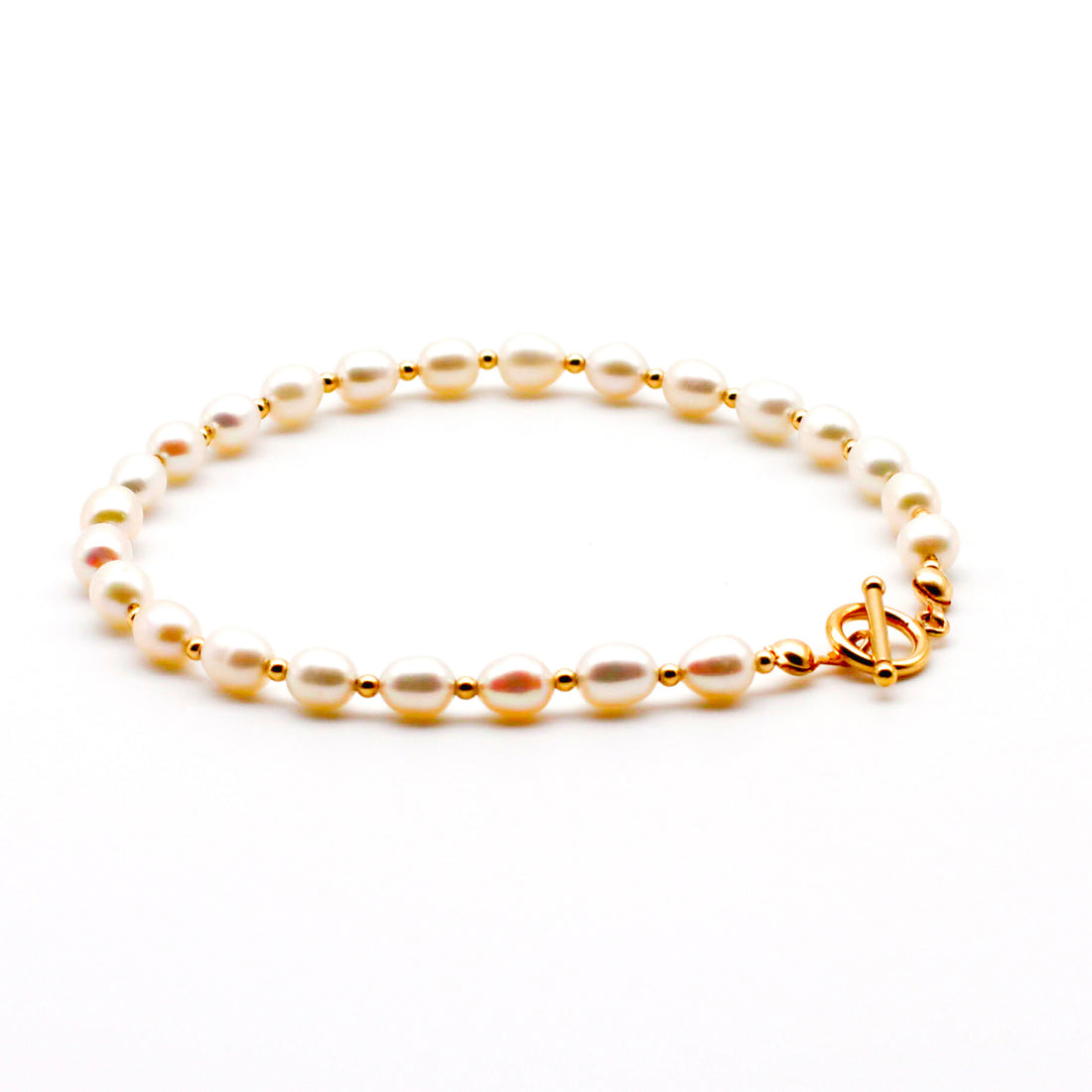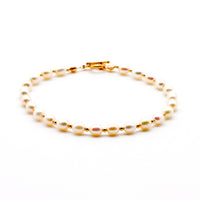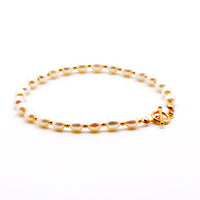 Pearls with Gold Bracelet
Pearls with Gold Bracelet
5x7mm Freshwater Pearls
2.5mm Gold filled beads
Gold filled toggle and bar claps

For best fitting, please measure your wrist before ordering. 
All of our jewellery are crafted by hand in small batches, using natural semi-precious stones or freshwater pearls. The beauty in this is that being natural, the beads may have slight variations in colour and size so that every piece we make is special.
Choosing the right size for your bracelet is very important: a good fit should be comfortable on the wrist, so the bracelet can look great and last a lifetime.

Use a piece of string to gauge how you want your bracelet to fit your wrist. Measure the string with a measuring tape.

Extra small - 15-16cm
Small - 16-17cm
Medium - 17-18cm
Large - 18-19cm
Extra large - 19-20cm

If your wrist falls out of this range, don't worry, contact us and we will have it made for you. Price may vary if the size is above 20cm.
Last on, first off.
Pearls should be the final piece to your outfit. Pearls are organic gemstones that are vulnerable to chemicals and extremes of humidity. Avoid applying hairspray, lotion, perfume or makeup once you put the pearls on. Be very careful with chemical substances as they will eat into the surface of the pearls

Pearls want to be worn.
Wear your pearls often. Pearls were born in water and do well from absorbing the oils your skin secretes naturally, so enjoy them frequently. Leaving pearl jewellery stored away for a long period of time may cause pearls to dehydrate, so wearing them frequently keeps them from drying out. That said, do not submerge your pearls in water, e.g. in the shower, swimming, long contact with water or washing the dishes. 

Clean your pearls after each wear.
Gently wipe your pearls with a damp cloth or microfibre jewellery cloth to remove any perfume, makeup or lotion that might have come in contact with your pearls throughout the day.
Find the perfect jewellery to gift to a loved one, family or friend; or treat yourself to a piece that matches your style, occasion or mood.